Opened 24/7 responds within 24 hours

Zazzle Deluxeforms & Deluxephotos - Onlinestore
Artist / Photographer Rockin Docks
aka Deluxeforms / Deluxephotos
Our Community
Zazzle is an on-demand marketplace where we connect customers with artists' beautiful designs on the world's best products so anything imaginable can be created.
Our Products let you add your personal touch to any part of your life. We're passionate about giving you the ability to make your mark on the world through customization, and we believe there is no limit to self-expression. With an ever-expanding array of categories including everything from apparel and paper goods to fabric and food, we're committed to offering the highest quality custom products in the world.
These designs get a gold star! Hand-picked by the trendspotting experts here at Zazzle, Editor's Picks are some of the Zazzle products that really stand out from the crowd.
Our Red White Blue Star Chocolate Dipped Oreo



Is an

editor's pick

product -
Wow your guests with a spin on one of their favorite treats -

chocolate dipped Oreos®! Customize an Oreo cookie covered in white or milk chocolate and adorn it with an edible design of your choice. These individually wrapped chocolate dipped Oreo's are perfect goodie bags at weddings, birthdays, parties, baby showers, or as a gift during the holidays.
Will be made by
Veronica's Treats


Our mission is to give people the power to shop for thousands of
"print on demand" products and partnering with the best brand deals online.
Afridrille Espadrille Shoes Look Good. Do Good.
We're excited to introduce the first Afridrille! A one-of-a-kind slip-on shoe that's perfect for doing good and feeling good.
It's been affectionately named Afridrille because it's inspired by the Spanish espadrille style, but it's 100% made in Africa. The shoe retains the look and feels of the espadrille while weaving in the local African flair through unique custom designs, indigenous African patterns, and the kanga fabric (a colorful triangle garment worn throughout East Africa).
The Aridrille is fully customizable. Each customer can create a unique shoe that fits their own personal style by selecting the color of the canvas, the style, and color of the print, and the inner kanga lining. Available for men and women. Only at Zazzle.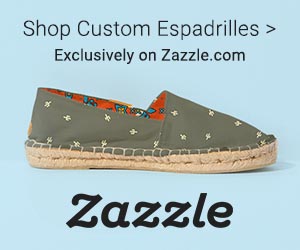 Be an Exception to the Ordinary - Our Independent Makers handcraft items that will continue to be classics for generations to come.
Welcome to the home of custom crafts gifts and accents crafted by Zazzle's community of talented Makers! Experts in everything from small-batch manufacturing to state-of-the-art technology, our independent makers and manufacturers create custom goods just for you - they are crafts, printers, carvers, engraves...dream-it-up-and-put-it-together! Whether it's a custom leather belt or bag, a personalized piece of jewelry, trendy barware or unique home decor accents, our Maker products bring your personal style to life.
Check out all our high-quality artisan gifts and heartwarming personal keepsakes and discover the unlimited creativity of a personalized life. Only at Zazzle.
Officially Licensed Merchandise
Officially Licensed Brands - Customize products featuring faves from TV, movies and pop culture
Shop our selection of Officially Licensed custom products from brands like
Disney, Star Wars, Marvel, DC Comics, Harry Potter, Harry Potter, Sesame Street, My Little Pony, Universal, Warner Bros., and more.